Explore Wayne Mattox Antiques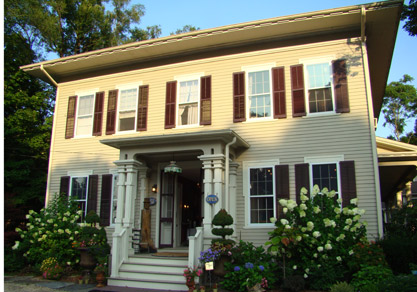 When you enter the shop for Wayne Mattox Antiques, housed in a beautiful, circa 1835 Greek-Revival home in picturesque Woodbury, Connecticut, you'll find a collection of constantly changing inventory that focuses on American and European furniture, paintings and folk art, and treasures of all types. Most importantly, the collection meets the shop owners criteria for undeniable integrity, interesting subject matter and aesthetic appeal.
Wayne Mattox says, "We sell museum-quality fresh-to-the-market antiques at fair prices". Wayne is recognized for his extensive knowledge in the antiques market. As a public speaker, appraiser, writer and auctioneer he is enthusiastic about sharing his knowledge of antiques. Wayne's scholarly attention to historic merit is augmented by his wife Kathleen's great eye.
In one of his popular columns for Antique Talk, Wayne defines an antique not so much by its age but what a particular object did to distinguish itself in its day. "If Peter Max designed a 7-UP bottle form weathervane in the 1960's, I'd love to place it in one of my customers' homes - especially if it had wings and looked great!" It's the kind of thing you might find in the Mattox's historic Main Street shop: if you happened in on the right day.
If you can't make it to lovely Woodbury, Connecticut you can browse our collections in our Online Shop, which we host through the Ruby Lane storefront.
Enjoy your exploration, you never know what treasures you'll find!

Weathervanes - Part I
Just as yesterday's ladies and gentlemen gowned themselves with hats, so too were their homes, sheds, and barns attired up top. In fact, towards the end of the 19th century, it was an exception to encounter a handsome building that was not adorned with a weathervane on its roof. Seafarers, landlopers, and farmers, consulted their vanes regularly as an indicator of the wind and weather. Today, these valuable old objects fashioned out of copper, zinc, iron, and wood are being removed from roofs where they are at risk from bandits with ladders, and even helicopters, and being sold for big prices. Currently, it is the most coveted category of folk art sculpture.
Weathervanes - Part II
A painter peeked into a shed and saw at a man hammering out a large iron form into the shape of a dove. "I envy you, wind-vane maker," the artist said, "all the sky is your canvas."
Old weathervanes are one of the most beautiful of all antique art-forms. Prior to 1850, weathervanes were fashioned by individual craftsman who shaped copper, iron, or wood. Sadly, few of these highly individualistic vanes survive today. When they do show up, they are frequently overlooked by dealers and collectors because their weathered, condition is unacceptable. That is going to change. In the meantime, seek out authentic one-of-a-kind vanes, because those old-day artists often introduced stunning drama to their sculpture.