Superman!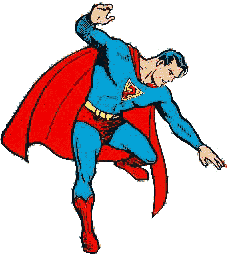 "Look, up in the sky! It's a bird! It's a plane! No, it's Jerry Siegel and Joseph Shuster!"
"Who?"
The boys met in the early 1930's working on a student newspaper, The Glenville Torch, in Cleveland Ohio. They shared a passion for science fiction, reading Edgar Rice Burroughs, H.G. Wells, and Jules Verne. They also loved comic strip art like Winsor McCay's futuristic Little Nemo in Slumberland and Harold Foster's artistic work in Tarzan.
"From the first day we met, Joe and I went to work, collaborating together on comic strips, comedy science-fiction, etc." Writer/conceiver Jerry said in a 1983 interview. "Creating comics was easy. Selling them wasn't. Joe's eyes troubled him. Despite this, he drew panel after panel."
Like many young people, Jerry and Joe lacked confidence with their schoolmates.
"There were some lovely high school girls who I admired from afar," Jerry said. "They were not the least bit interested in me. I was not Clark (Kent) Gable. But! If I were to wear a colorful, skintight costume! If I could run faster than a train, lift great weights easily, and leap of over skyscrapers in a single bound. Then they would notice me!"
Joe Shuster was blind, living in a one-bedroom apartment, when he gave his last interview with the Toronto Star, July, 30, 1992. As a child, his mother begged scraps of white paper from the butcher so that he could practice his drawing.
"One day I found a bunch of wallpaper rolls left over from some job. The backs were blank, so it was like a gold mine for me. I kept using that wall paper for a long time," Joe said. Joe's cousin Frank described him as, "A stereotypical 90-pound weakling getting sand kicked in his face."
In 1933, two self-described "bespectacled, introverted, inhibited" boys pooled their talents and dreams to create a revolutionary new type of duel-personality comic book hero they called "The Superman."
Editors were not impressed. "Too sensational," one said. "Nobody would believe it." Another syndicate explained they "only wanted strips with extraordinary appeal."
One black day in antique history, Joe burned all but one of his original Superman drawings, then took a job as a grocer's delivery boy.
"In comics," Jerry said, "you could accomplish anything. In real life, you were up against one of the roughest, toughest, beings in all creation: a comics editor."
Finally, in 1937, Joe and Jerry landed a paltry deal with Detective Comics (later known as DC comics) who purchased Superman, and all rights to the product, for a miserly $130.00! The strip was published in the June 1938 first issue of Action Comics. Superman was an immediate sensation. Within a year every publisher was looking for their own "costumed-characters."
Batman would make his first appearance in Detective Comics, May 1939. Captain Marvel, first called Captain Thunder, would debut seven months later. Captain America would throw his mighty shield into the ring when Hitler was threatening the world in 1941. In the next ten years, 25,000 different comic book stories with hundreds of "super-heroes" would be turned out in assembly-line like fashion by artists and writers. Like Joe and Jerry, they would work in relative obscurity.
Today, the 1938 first appearance Superman comic book can fetch over $100,000! Old comics are worth big money. We'll talk more on the subject next week.
Until then, every time you see the happy sight of children flying across your yard with towels close-pinned to their back, remember, you have two nerdish friends from Cleveland to thank-Clark Kents turned Supermen!