Coca-Cola Antiques Make Sure it's the Real Thing
After fighting for the confederacy during the civil war, John Pemberton moved to Atlanta, Georgia where he specialized in the mixing and vending of various patent medicines. The pharmacist claimed that one of his recipes, a Bordeaux laced with caffeine (from the seed of an African kola tree) and cocaine, would cure sluggishness, nervous disorders, headaches, internal plumbing, and improve sexual performance. Not surprisingly, French Wine of Coca, was his best seller.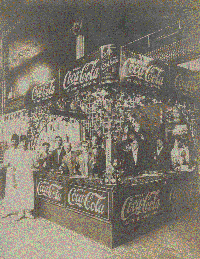 In November 1885, Atlanta voted to become a dry city. Experimenting in a three-legged brass kettle in his back yard, Pemberton's various non-wine coca kola concoctions proved bitter tasting. He added sugar, vanilla, caramel, orange, lemon, nutmeg, lime juice, cinnamon and coriander oil. Finally, Pemberton arrived at a caramel colored syrup he merchandised by hauling in a jug to a local pharmacy called Jacob's, where it was sold at the soda fountain as a "Delicious and Refreshing" drink for five cents a glass. That same year, the world's most famous trademark-white Spencerian Coca-Cola handwriting on a red background-was introduced by a printing innovator Frank Robinson, who contracted for an interest in the company and was instrumental in launching it. In 1886, sales of Coca-Cola averaged nine drinks per day. Unfortunately, Pemberton proved to be his own best customer. A drug addict, he began selling interest in the floundering business (including Robinson's) and died in 1888.
Shortly thereafter, Atlanta entrepreneur, Asa Candler, at the urging of hoodwinked Robinson, purchased sole proprietorship rights to Coca-Cola for $2,300. He removed cocaine from the recipe in 1903. With innovative bottling systems in place and merchandising genius Frank Robinson rehired, Candler expanded consumption of Coca-Cola to every part of the nation within four years.
Since its inception, Coca-Cola has been a world leader in innovative merchandising and advertising policies. By 1905, they had already produced calendars, stationary, booklets, logo decorated ceramic syrup urns, post cards, coupons, bookmarks, trays, a plethora of signs, advertising clocks, fans, napkins, banners, posters, novelties, and the once familiar Coca-Cola flare glass. The bell shaped fountain glass would become standard in 1929. The Root Glass Company introduced Coca-Cola's famous contoured 6.5-oz. bottle in 1915. Coolers and wooden and cardboard six pack containers were introduced in the early 20's. Upright vending machines were introduced in the 40's. Flat top cans were invented for soldiers in 1956. And, at a cost of a quarter million dollars, 300 Challenger Space Shuttle cans were produced in 1985. On July 31st of that year, Coca-Cola became the first carbonated beverage to be drunk in space.
Legendary advertising campaigns include: "Coca-Cola Revives and Sustains," (introduced in 1905), "The Great National Temperance" (1906), "Three Million a Day" (1917), "Thirst Knows no Season" (1922), "Six Million a Day" (1925), "Around the Corner from Everywhere" (1927), "The Pause the Refreshes" (1929), "When you think of Refreshment, think of ice-cold Coca-Cola" (1942), and "The only thing like Coca-Cola is Coca-Cola itself. It's the Real Thing" (1942). "Coke" was registered as a trademark in 1945. "The Cold, Crisp taste of Coke," was implemented in 1958, "Things go Better with Coke," (1963), and "I'd like to buy the world a Coke," was first sung in 1971.
Anything old (and it doesn't have to be real old) and authentic having to do with Coca-Cola is highly collectible. World wide, the name is synonymous with America herself. Unfortunately, reproductions in all categories abound. Perhaps the best place to locate the world's most popular line of collectibles is in your own attic. The worst place is flea markets where fake trays and ashtrays sell briskly as the beverage. Toward determining if a particular item is "the real thing," ask yourself this question; was it made to sell Coca-Cola, or fabricated to sell you?