I.M. Hummel Figurines - Part I
When you're only two years old, a friendly dog living next door can be nothing less than a monster. This fanciful Rochester, NY terror so impressed my father that one day he returned home from a business trip with a present for his wife. The ceramic figurine of young boy chased up an apple tree by a tail-wagging Scotty Dog still resides in our family collection. In 38 years time, while old teapots and vases have been used and broken, and sentimental presents have been discarded, and 18th century rarities have been sold off, the Hummel remains.
I believe old Hummel figurines will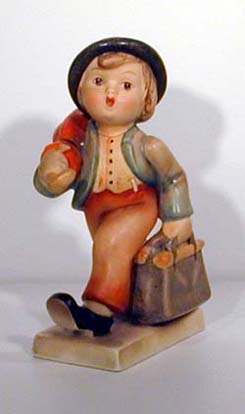 prove an excellent investment in future years for the following reasons: 1. There are a sufficient number and variety available to make them very "collectible." Contrary to popular opinion, extreme rarity is not always a desirable influence on antique value. 2. They have appeal. After years of me-generation disco, punk rock, rap, and dress down style; sentimentality, romanticism, classic style, and traditional values are on the rebound. 3. Most all were made according to exact factory specifications and are clearly marked underneath making them "catagorizable." Value enhancing collecting clubs sprout in such antique fields. 4. Hummels have not been hot in recent years and cool waters often sport the biggest fish. 5. They are reasonably difficult to fake. 6. Most Importantly; they are well-suited to blossoming world-wide Internet antique conveyances-a multimillion person market.
In partnership with his son, William, Franz Detleff Goebel founded a German porcelain factory in 1871. Their first figurines were introduced in the 1890's. Around 1930, the company began looking for a fresh identity from which they could model their wares. Their prayers would be answered by artistic hands of a young nun.
Berta Hummel was six years old when her father was drafted into the German Army in 1915. A strong willed child fond of drawing landscapes and costumed figures, one of Berta's teachers recognized her talent and encouraged enrollment at a boarding school where she developed passions for art, faith and friendly frolic.
In 1931, under the frightening shadow of Adolph Hitler's ascension in power, Berta sought refuge behind the walls of the Franciscan Convent in Siessen, Germany. Under the encouragement of her superiors, she continued her art and was two years later ordained sister Maria Innocentia. In 1933, her delightful drawings of happy children and animals in a natural setting were turned into postcards, earning her convent the first of many future commissions. Some of these cards found their way back to America and are much sought-after today. Maria's pert faced characters were soon discovered by the Goebels and, in 1935, the first "M. I. Hummel" signed figurine called "Puppy Love" appeared on the market. A rare "old style" example of this figurine commands about $4,000 today.
Sadly, unlike the happy, optimistic children depicted in her drawings, Berta spent the last ten years of her life under fearful conditions brought on by a government that was the antithesis of everything she held dear. November 6, 1946, Sister M. I. Hummel, who lived impoverished within the small confines of damp basement room, died of tuberculosis, at the age of 37.
Next week, we'll talk insider tips on price, marks and other criteria concering old Hummels. Until then, remember the words of a young artist whose entire life fell under a gray political shadow yet whose palate knew nothing but rainbows: "What is more beautiful than to give pleasure to others."