Explore Wayne Mattox Antiques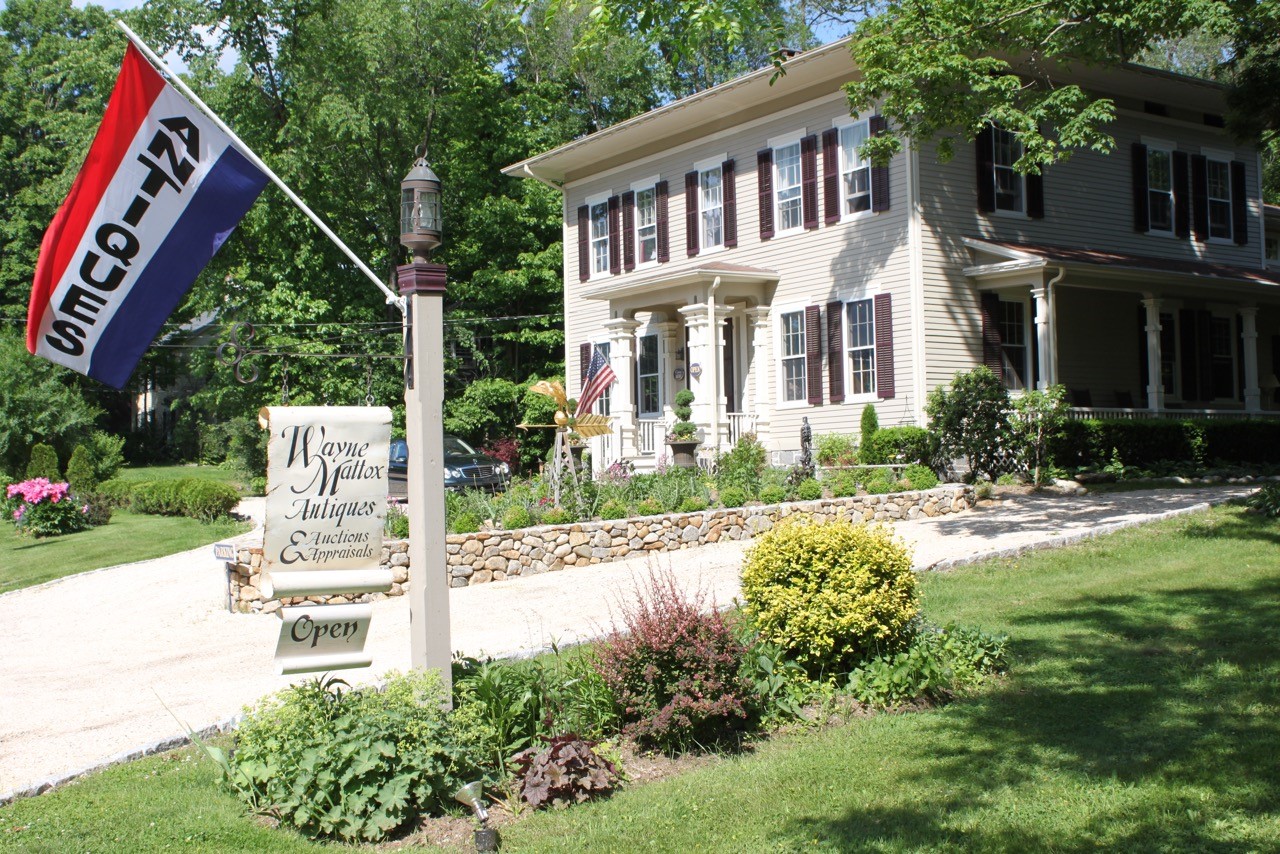 When you enter the shop for Wayne Mattox Antiques, housed in a beautiful, circa 1835 Greek-Revival home in picturesque Woodbury, Connecticut, you'll find a collection of constantly changing inventory that focuses on American and European furniture, paintings and folk art, and treasures of all types. Most importantly, the collection meets the shop owners criteria for undeniable integrity, interesting subject matter and aesthetic appeal.
Wayne Mattox says, "We sell museum-quality fresh-to-the-market antiques at fair prices". Wayne is recognized for his extensive knowledge in the antiques market. As a public speaker, appraiser, writer and auctioneer he is enthusiastic about sharing his knowledge of antiques. Wayne's scholarly attention to historic merit is augmented by his wife Kathleen's great eye.
In one of his popular columns for Antique Talk, Wayne defines an antique not so much by its age but what a particular object did to distinguish itself in its day. "If Peter Max designed a 7-UP bottle form weathervane in the 1960's, I'd love to place it in one of my customers' homes - especially if it had wings and looked great!" It's the kind of thing you might find in the Mattox's historic Main Street shop: if you happened in on the right day.
If you can't make it to lovely Woodbury, Connecticut you can browse our collections in our Online Shop, which we host through the Ruby Lane storefront.
Enjoy your exploration, you never know what treasures you'll find!

Shop Featured in the News
We were pleased to have Litchfield County based writer John Torsiello visit with us recently. Enjoy his latest article and pictures.
Wayne Mattox Antiques & Auctions combines traditional with whimsical

Wayne Mattox is sitting in his and wife Kathleen's kitchen on a warm morning. The space is meticulously and attractively decorated with subtle colors, paintings. A stove backsplash adorned with antique Portuguese porcelain tiles visually teases you. The couple is up early, getting set for another busy day at their business, Wayne Mattox Antiques & Auctions located on Woodbury's fabled "Antiques Row" at 82 North Main Street.
Rare American-Indian Drum
Wayne shares the details of this rare American-Indian drum.
Wayne Mattox On The Martha Blog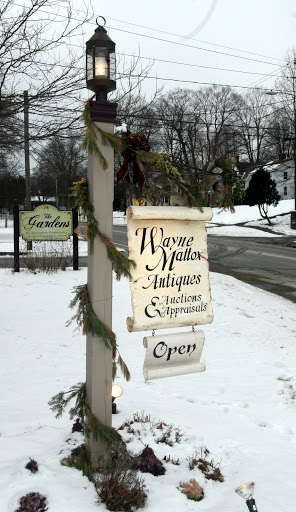 Wayne Mattox Antiques and Woodbury CT had the amazing opportunity to host Laura Plimpton, sister of media mogul and DIY guru Martha Stewart. She was so impressed with what she found, here on Connecticut's Antique Trail that she and her sister posted about their trip on The Martha Blog and shared some great images of our shop and the area around!
Wayne On American Pickers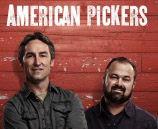 Wayne Mattox appeared as a "Folk Art Expert" on American Pickers on The History Channel. He helped the American Pickers team with the appraisal of an eagle weathervane that found its way from a barn cupola to a tree where it lived for many years to the barn attic to Mike & Frank's truck and finally to their Nashville store. This antique adventure has wings!
Wayne Mattox Named "Top 10"

Antique stores seem ubiquitous across Connecticut, with numerous options practically in every town. The Connecticut Tourism Board has even organized several of these stores into an "Antiques Trail" to facilitate out-of-state tourism and local explorations. We've scoured the shops and have picked the 10 best antique stores in Connecticut. Now go out and explore!
American Political Campaign Memorabilia
If you want to introduce your children to a collecting hobby that might spark interest in how our country has governed itself and what direction we'll take in the future, consider American political campaign memorabilia.
Since the early 19th century, candidates and causes have been bolstered and bludgeoned by advertising broadsides, clothing, silk banners and ribbons, message touting flags, parade torches, and buttons.
The first generation of political buttons, ferrotypes, were made by inserting an office-seeker's photographic tintype into the brass frame of a small button that could be pinned or tied to a lapel. Ferrotypes of Abraham Lincoln occasionally show up and fetch hundreds of dollars.
Mounted paper images protected by a thin coating of transparent celluloid (early plastic), were first patented in 1893 and made their political debut during the McKinley/Bryan elections in 1896 and 1900. One such button, depicting McKinley and his second running mate, Teddy Roosevelt, riding a two-seater bicycle on a path to the White House, is representative of what collectors treasure-clever, well designed, themes. An encircling message; "Gold didn't get there July 7th - But watch us take it there Nov. 3rd," adds additional interest to the button because it describes the Gold standard vs Silver standard political debate going on at the time. Some McKinley political buttons were nothing more than brass figural "bug" pins worn by Republicans who referred to themselves as "gold bugs." Bryan supporters also wore figural bug pins. Guess what color? These and thousands of other non-descriptive buttons like them can be ferreted out for pennies at tag sales by one who is both lucky and a student of political history.
Buttons stamped out of lithographed tin came into wide use in 1916. Print decorated tin buttons advertising candidates and issues before then, are most probably fakes.
Most political buttons sell for under twenty dollars. People enjoy them because of their historical interest and because they are colorful and witty. A few of my favorites are tough-guy photograph buttons of Teddy Roosevelt with "Rough Rider" captions, 1928 Hoover pins describing a good economy, a big Eisenhower button picturing his vice president with a slogan reading, "Keep Dick on the Job," George McGovern hippie buttons, any with Ronald Regan on it, and a 1960 John F. Kennedy button reading, "Prostitutes Vote for Nixon or Kennedy ... We don't care who gets in!"
Collecting contemporary political button and mementos, unlike overproduced stamps and baseball cards, is a hobby where today's children can truly collect tomorrow's antique treasures. Perhaps a Steve Forbes' button with carpet tacks that look like they've been flattened by a steamroller? How about a red, white, and blue steel lunchbox with Pat Buchanan's name on it? Or a Dole banana pin? Who knows what's in store for the President and the First Individual? What ever it is, it's sure to be printed on a political button.