Breakfast Cereal Collectibles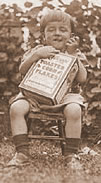 When I was a kid, no object by man or God consumed my morning attention like breakfast cereal. I am talking the whole package here, including the box with its bright colors, bold graphics, promotions and comic and celebrity characters. I especially liked contests and games that occasionally appeared on the back. Even better, like a box of Cracker Jack, sometimes small prizes and toys were contained within. Remember the feeling of combing your fingers through cereal until you hit bottom? Then you worked your way side-to-side and corner-to-corner.
I recalled associated commercials when I was chomping away on my Coca Krispies or Captain Crunch. Any jingle previously branded into my mind would be hummed. If milk was slobbered onto the table, so be it. Occasionally, Mom and Dad would try to sabotage this bliss by substituting "healthy" cereals for brands I preferred. These attempts failed. A few table spoons of sugar and chopped fruit and I was back in business. The Rooster on Corn Flakes was quite capable of attracting my attention too. If you are reminiscing over your breakfast bowl right now, you'll probably understand that, across the board, cereal boxes and related antiques represent a tremendous collectible market. The fact that so many of the first cereal companies prospered and still do so today adds extra interest and value to the hobby.
While the Shredded Wheat name was introduced in 1908, this pioneer product was developed around 1893 when Denver Colorado's Henry Perky discovered that his patented cereal making machines were more difficult to sell than the small pillow shaped biscuits they produced. In 1901, he opened up a large bakery near Niagara Falls. There, tourists flocked to the "Palace of Light" and it's state-of-the-art sanitary and technological systems. Some even purchased company picture post cards that are much sought-after today.
Battle Creek, Michigan is an industrial center in grain growing country famous for its large breakfast cereal industry. Kellogg's Corn Flakes was introduced toward the tail end of the 19th century when superintendent and physician of the Battle Creek Sanitarium health resort, John Harvey Kellogg and his sober businessman brother, Will Keith, visualized a cereal in a form that would have good keeping qualities, little or no preparation, be attractive in flavor, light and easy on the digestion.
The Breakfast of Champions was invented in 1921 when, as the story goes, a Minneapolis man interested in health accidentally spilled a wheat bran mixture on a hot stove. After contacting the Washburn Crosby Company, forerunner of General Mills, Gold Metal Wheat Flakes was introduced in 1924. Recently, Wheaties celebrated their 75th anniversary by re-releasing the original packages as selected by the American public through its "Vote for Your Favorite Wheaties Champion" promotion. The winners were: John Elway, Lou Gerhig, Bob Richards (1939 Pole vault) and other U.S. Gold Medal Team members, Michael Jordan, Walter Payton, Mary Lou Retton, Cal Ripken, Jr., Jackie Robinson, Babe Ruth and Tiger Woods.
Quaker Oats was officially formed in 1901 when Ferdinand "The Oatmeal King" Schumacher and other oat milling pioneers came together to incorporate and introduce their famous name and symbol.
Breakfast cereal antiques include early promotion spoons, bowls and similar items, toys-like a valuable 1946 Buck Rogers Magic Saturn Code Ring, advertising & promotional products, and original cereal boxes.
Many cereal package collectors begin by carefully opening both ends of the box. Heating the glue with a hair dryer will help. Then, they remove cereal, flatten, and store their prize in 14" by 17" clear plastic top loader available in hobby shops and ads in card magazines. Cereal boxes can be displayed full-form by removing the cereal, filling with plastic peanuts, and resealing the box with a low temperature glue gun.
Extraordinary cereal boxes can fetch hundreds of dollars each. Values are determined according to age, condition, sentimentality, rarity, graphic interest, and crossover and promotional interest: For instance, an early Star Wars ad might on a box would might attract Star War's enthusiasts. Lastly, people collect boxes for the characters on them and when they first appeared. For instance, just as a Mickey Mantle rookie baseball card has special value to card collectors, so too would an early Ruth Wheaties box or a 1965 box of Quisp; the year the 3'11" forty-three pound Planet Q resident arrived on earth in his cereal packed spacecraft.
Here's some other first arrivals: Quakies Miniature Quakers (Mother's or Quaker Oats)-1920, Snap!(Rice Krispies)-1933, Mickey Mouse (Post Toasties) 1934, Ranger Joe(Wheat Honey's)-1939, Crackle & Pop!-1941, Buck Rogers(Post Toasties)-1946, Lone Ranger (Cheerios & later other cereals)-1948, Tony the Tiger(Sugar Frosted Flakes)-1952, Marky "I want My Maypo"-1956, Cornelius the Rooster(Corn Flakes)-1957, Trix Rabbit-1960, Cap'n Horatio Crunch-1963, Sugar Bear(Super Sugar Crisp)-1964, L. C. "Lucky" Leprechaun (Lucky Stars)-1964, Count Chocola-1971, Mikey "Hey Mikey Likes it!"(Life)-1974, Big Yella Cowboy(Corn Pops)-1977
Like old lunch boxes, in addition to being a great antique hobby and investment, cereal boxes can be part of an imaginative decorative scheme. Imagine a kitchen with a case-fitted wall filled with interesting old cereal boxes like a 1910 Shredded Wheat or a '65 Trix: colorful graphics and even better memories.