Antiques Lessons from Donald Trump and NBC's "The Apprentice"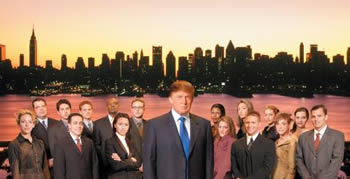 The market was primed to receive such a show. Reality TV programs featuring ordinary everyday people in a variety of not so ordinary challenges have dominated the ratings this winter and for the past 2 years. Themes tried so far include everything from trying to land a striking bachelor, to surviving on a tropical island, to bearing up in a casket full of spiders. The void in the marketplace was obvious: What about a show featuring challenges we can really relate to? A show where the contestants had to solve business problems concerning advertising, sales, negotiations, team dynamics and just plain imaginative thinking in real world situations. Then, perfectly timed, along comes a show called "The Apprentice." At the helm - one of the most talked about business tycoons of the last quarter century - Donald Trump. Void filled. Enter success. "The Apprentice" is the most addictive new shows on television," Newsweek magazine recently reported, "With more than 18 million viewers tuning in every week to watch Trump conduct his own master class in megasuccess."
What does "The Apprentice" have to do with antiques? Just take a look at the last few week's range of business challenges Mr. Trump devised: Operating a booth at a flea market; running an auction; renovating, decorating and renting an old apartment in NYC; and marketing art.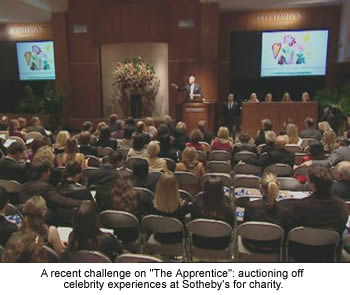 Week number 9's contest featured two teams of would be apprentices choosing an emerging artist and merchandising their paintings at a New York art gallery. The players who sold the most paintings would keep its team intact while the losers face Trump's boardroom elimination of one of its teammates. Trump warned the teams that this would be a tough assignment as the worth of art is, like the intrinsic valuation of antiques, subjective.
The winners chose a Modern Art artist named Andrei. His paintings are soft in palate and strong in texture, color and abstract shape. Andrei's art lends itself well to most rooms and, at about $1500 a painting, they are within many collectors' means.
The losing team backed an artist named Meghan. Her highly original futuristic pop art features nightmarish mosaics of people (for this show it was two sisters) set into good verses evil extremes. While it is professionally rendered and eye absorbing, Meghan's personal interpretations of life's trepidations isn't the manner of art most people want to hang on their walls and look at every day. It's too weird.
As the show's website describes, "In the boardroom, Donald started by asking the teams a few questions, including if they personally liked their artist's work. Amy said that "Versacorp" (the winning team) all really liked their artist's work, even if they all weren't onboard at first. Trump then turned to "Protégé" (the losing team) and Heidi admitted that the team didn't particularly like their artist's work. Troy said that they chose their artist because of the higher price point of her work. Kwame added that the artist had a built-in following. George and Carolyn then revealed the all-important numbers. "Versacorp", led by Nick, had sold a whopping $13,000 of art while "Protégé", led by Kwame, had racked up only $869. Donald said "Protégé" got "creamed" because they made the mistake of not believing in what they were selling.
Mr. Trump's business lesson is one of the most important lessons you can apply everyday when it comes to antiques and most endeavors. Whether you are buying for investment or resale or to decorate your residence: buy what you like. No, let's make that: buy what you love! As Mr. Trump advises, if you aren't totally passionate about what you do, you won't come out on top and you won't be fully satisfied. Same thing holds true in antique collecting. Find something you love. Learn all you can about it. Find some friends and experts who can help you out in your selection. Shop vigorously. Then buy selectively. Pay more if you have to. But take that collecting path that makes you hop, skip and jump every day.
One of my favorite aspects of antiques is that lessons for success can be found in many arenas: even reality TV. Now, how can I get on that show?