Playbill® Collecting
Her Majesty's Theatre, London, October 9, 1986 the curtains opened and the auctioneer said for the first time, "Sold. Your number sir?" The winning bidder raises his paddle. "Thank you," the auctioneer says. A few moments later he would move on to Lot 664: "Ladies and gentlemen: a papier-mache musical box, in the shape of a barrel-organ. Attached a figure of a monkey in Persian robes, playing the cymbals. This item, discovered in the vaults of the theatre, still in working order."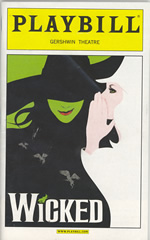 The porter sets the mechanical toy into motion and raises it over his head. "May I start at twenty francs? The auctioneer says. "Fifteen, then? Fifteen I am bid?" As the bidding continues, the toy monkey begins clapping his symbols and playing a chiming melody called "Masquerade." The haunting overture will be incorporated over and over again in what would turn out to be one of the most breathtaking introductions to the history of live stage art. It was the opening night performance of Andrew Lloyd Weber's, "Phantom of the Opera."
Few experiences can compare with those feelings so many of us have shared exiting a triumphant play: awe, joy, spent emotion and humility. Your belief in mankind is heightened to such an extent that you comparatively feel only 6 inches tall. "How can mortal man be so creative? Be blessed with so much talent? Accomplish such beauty?" you wonder. You begin second guessing your own importance in the world and reaffirm to do better. One piece of tangible evidence is carefully preserved so that you don't forget the vows you've made to yourself on this night – the Playbill®.
Performance souvenir programs have been provided to theatregoers, probably since the days of William Shakespeare, but most predominantly, in the late 19th and 20th century. Outside of Hollywood, Broadway and other areas strongly frequented by actors and stagehands, play programs don't appear to be widely collected. This is good. Even if you are not a theatre buff, having one more category of antique to keep your eyes open for at tag sales, auctions and other antique arenas, makes the hobby and business all the more enjoyable. Especially, if the category has not yet been added to the "Antique Endangered or Extinction List." (This list will be published in a future column!) Here are a few tips on the subject:
Most souvenir programs provided at Broadway and other US playhouse locations were produced and clearly headlined by the Playbill® Club. Established in 1884, Playbill Magazine describes itself as "the program of the professional legitimate theatre in the United States."
Toward establishing how numerous souvenir programs relating to popular and recent productions are, consider that "Phantom" played its 7000th performance, August 2003 and according to their website, "played more than 65,000 performances in 20 countries in 110 cities around the world to over 58 million people grossing over £1.6 billion worldwide." That's a lot of programs!
Because they are so numerous: excellent condition, early age, short-run productions, famous performers, popularity, cross-collectibility, undeniable integrity, star signatures (if available), graphic interest and price are important factors to look for when considering purchase.
If you want to collect programs from your favorite shows, rarities may still be available. For instance, for its September 10, 2000 final performance following an 18-year run, Winter Garden's "CATS" handed out a Playbill with a special cover: The two yellow cat eyes transposed on a jet-black background (the show's standard program cover) now included one dripping tear.
The following recently-concluded play program transactions are a gauge to current value in the antique/collectible market. Compared with comparable "celebrity" antiques like highly valued old movie posters and studio props, the category seems to be an excellent arena for investment.
Circa 1960 souvenir program for the Broadway production of the "The Sound of Music" starring Mary Martin. Autographed by five major stars and including a personalized note. Very good condition, $60 sold price.
"Avenue Q" opening night Playbill (USA only): $10
"Les Miserables" official U.S. closing night Playbill with cover reading "Au Revoir." $50
"Fedora" Farewell engagement of Mme. Sarah Bernhardt at Tremont St. Theatre, Boston, April 12, 1892, soiled: $35
Arthur Miller's "Death of a Salesman" Playbill with cover picture of star, Brian Dennehy performed at the Eugene O'Neil Theatre, NY in 1999: $7.00
Playbill from "Les Miserables" March 1987, Broadway Theatre, NY featuring the original cast members. $71
Mark Hellinger Theatre's March 15, 1956 first Playbill from "My Fair Lady" starring Rex Harrison and (newcomer) Julie Andrews: $25
1949 Playbill, Elia Kazan's production of "Death of a Salesman" a "New Play by Arthur Miller" (Roxbury, CT native who would later win the Pulitzer Prize) that opened February 10, 1949. $25
A few weeks ago, my gal, Kathleen and I went to see a wonderful new Broadway play at the Gershwin Theatre NYC called "Wicked." Two more Playbills, signed by Production Supervisor, Steven Beckler were added to small portfolios. The collections are of little value except to a Connecticut antique dealer and NYC marketing executive who treasure the memories of great writing and those gifted performers, musicians and backstage geniuses who bring it to life.