Grant's "Memoirs" a Literary Treasure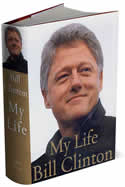 "The book, which weighs in at more than 950 pages, is sloppy, self-indulgent and often eye-crossingly dull — the sound of one man prattling away, not for the reader, but for himself and some distant recording angel of history." This excerpt from Michiko Kakutani's stinging review in the New York Times of President Clinton's newly released memoir casts the book among the lot of autobiographies penned by recent presidents, including those of Jimmy Carter, Richard Nixon, Gerald Ford and Ronald Reagan. All these books have widely been described as boring, too modest, too self-serving or lacking in character.
Poor and lackluster reviews notwithstanding, Clinton's "My Life" is already setting sales records, and interest in Clinton's book as a collectible is strong. Personally signed copies of the book tracked this week on eBay sold for between $217 and $445, the low price mostly a reflection of the seller's poor feedback rating. One can assume that as the number of signed Clinton books increases, the prices will invariably go down. Collectors who hold-off until all the hoopla settles down will likely be able to pick-up a bargain.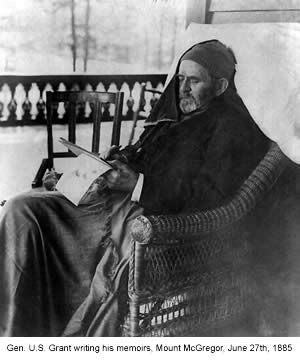 Historians and reviewers who have commented regularly on the banality of presidential memoirs always point to one notable exception -- the "Personal Memoirs of Ulysses S. Grant." Grant wrote his memoir as much out of desperation, as a desire to tell his story of the great Civil War. Having recently lost his fortune to a Wall Street scam artist, Grant began this task in large part to provide for his family. He was already suffering the ill-effects of what would be diagnosed as throat cancer. Under this tremendous pain and pressure he wrote what has been described as one of the most gripping accounts of the Civil War every told. He does not bore the reader with details of his early life and was likely too ill to complete a record of his undistinguished presidency. But the book told a vivid portrait of the Civil War in clear, concise prose.
Gore Vidal, who wrote a critically acclaim novel about Lincoln, said of Grant's memoir, "It is simply not possible to read Grant's Memoirs without realizing that the author is a man of first-rate intelligence." Mark Twain, who became a close friend of President Grant, described it as comparable to Caesar's Commentaries. "I was able to say in all sincerity that the same high merits distinguished both books," Twain said, "clarity of statement, directness, simplicity, manifest truthfulness, fairness and justice toward friend and foe alike and avoidance of flowery speech. General Grant was just a man, just a human being, just an author...The fact remains and cannot be dislodged that General Grant's book is a great, unique and unapproachable literary masterpiece."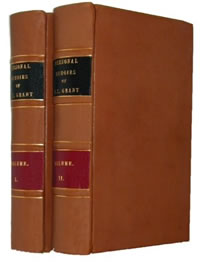 "Personal Memoir's" was an amazing success. The book earned Grant's estate close to $450,000 in royalties -- a fortune during that time. While cloth books during the period typically sold for $1.50, Grant's memoirs were sold only through subscription by canvassers who came to your home. Prices ranged from $7.00 for a simple cloth binding to $25.00 an edition with a fancy hand-tooled leather binding. Middle-class households of the time kept the book proudly displayed on their parlor table.
Due to the tremendous popularity of the book, original editions are still widely available today. According to Ken Gloss, owner of the Brattle Book Store in Boston, MA, the Personal Memoirs of Ulysses S. Grant are one of the most common items he is asked to appraise on "The Antiques Roadshow." Thinking they own a treasure, people invariably point to the signature in the front of the book. But this signature is easily authenticated. "Grant died before the book came out," Gloss has to explain, likely to the great disappointment and embarrassment of the owner. In fact, the printed signature was in each copy of the memoir, a common practice of the day to inform the reader that they were purchasing an authorized edition.
Although still affordable, prices for the Grant memoir have appreciated in recent years. According to Candace Scott, an expert on Grant, prices for original cloth sets commonly referred to as "the Shoulder Strap edition" could be purchased in 1966 for $6.00 in excellent condition. Today, prices range from $100 to $300, depending upon wear.
An original set of what book dealer's call half-leather in exceptional condition can be found for between $300 and $400. A ¾ leather set sells for well over $400 in fine condition. The full leather tree calf set sells for $600 in fine condition. Those rare editions bearing a signature of Grant's widow, Julia Dent Grant sell for between $7,000 and $20,000.
So if you're interested in collecting a truly remarkable presidential memoir at a reasonable price, look no further than your local antiquarian bookstore or perhaps browse the internet for an authentic copy of the Personal Memoirs of Ulysses S. Grant. You'll not only own a book worthy for display on your shelf, but a book to be read and enjoyed.