Brimfield Antiques Show
There are different ways to shop the Woodstock of antique shows. You can look for merchandise that peaks your interest and barter with dealers, or you can look to make an under-priced "hit." I was shopping the second way, pacing from booth to booth at the mile-long series of twenty plus antique shows at last September's festivities in Brimfield, Massachusetts.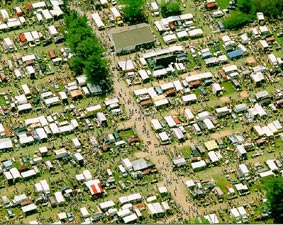 Something made me stop. I looked at the kid. He was about 19 years old, gangly, wearing a Red Sox baseball cap. He didn't look like a dealer. He had three eight foot tables set up on the grass field, no tablecloths. The tables were packed with junk: a rubber tire ashtray, washboards, a tin box that some knucklehead scraped clean of its valuable tole paint, 1960's Coke bottles, etc.. One thing was out of place, an Arts and Crafts period vase with valuable silver-overlay decoration. I was so sure it was a "Weller" (a valuable name in turn of the century art pottery) I didn't inspect the mark on its base. I tried to bring my eyes back inside my head.
"How much is that rubber ashtray?" I asked.
"Ten bucks," the kid said.
I pointed at the washboards.
"Eight bucks each. Three for twenty."
I pointed at the vase. "What do you need for that?"
The young man looked at me and smiled. "Three-thousand dollars!" he said.
I felt myself shrinking. The kid looked at me as if I was a fly he trapped under a glass.
On to Brimfield. It's the biggest antique show in the country, 1500 plus dealers, 50,000 plus shoppers. Held three times a year, second full week in May, July, and September. Parking is easy before 9:30 AM, averaging $4.00. There are many food stands available, expect long lines. Anything can be found there, from kitchens sinks to 18th century highboys. Most of the antiques have been swapped back and forth enough so that prices aren't cheap. The hardest thing about shopping Brimfield is the enormity of the place. It wears on you. Shop methodically and speak of your interests. Dealers often have something special tucked away.
Mid-morning opening hours, the shows are crazy. People line up three-hundred deep. They wear signs advertising their interests; WANTED-OLD TYPEWRITERS, I'VE LOST MY MARBLES!. All wish they were first in line. They want to make the big "hit." I've seen grown men waddle through knee-high streams in their rush to the gate. After the first hour mess the shows stay open for many days. Admission is about $4.00 per event. Many shows are free. All are situated on the main drag, route 20. The best route is 84 to exit 70. Take 32 north, bear right on 190 and turn left on route 19 for app. 25 miles until route 20, left and you're there.
Bring a back-pack, insulated drinks, plenty of cash, a checkbook, sandwiches, walking shoes, layers of clothing, camera, poncho, hat, sun-tan lotion, fold-up carrying sack, toilet paper and potty seat covers, business/collecting cards, a pen and pad, and a van or station wagon. The kids and the dog are welcome, but the pace and walking might be hard on them and you. Dress comfortably.
Besides the variety of antiques, visit Brimfield to see the people. It's as large and interesting assemblage of real individualists you'll ever see. Shows are held three times a year, usually in the second week in May, July and September. For more information, contact their web site at www.brimfield.com. Hope to see you there.