Ben Franklin - Newspaper Columnist - Part I
Courteous Reader, My name is Benjamin Franklin. For the next two weeks, columnist Wayne Mattox has invited me to substitute for him while he attends to business out of state. Hoping that it may be agreeable to you, here is my story, told by my own words.
Josiah, my father, married young, and carried his wife with three children into New England, about 1682, where they expected to enjoy their mode of religion with freedom. By the same wife, who died in 1689, he had four children more born there, and by a second wife ten more, in all seventeen; of which I remember thirteen sitting at one time at his table. I was the youngest son, and the youngest child but two, and was born in Boston, New England. My mother, the second wife, was Abiah Folger, daughter of Peter Folger, one of the first settlers of New England.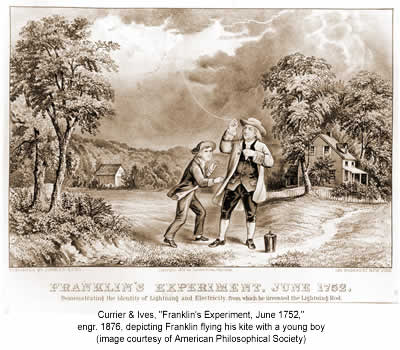 From a child I was fond of reading, and all the little money that came into my hands was ever laid out in books. At ten years old, I failed in the arithmetic, and was taken home to assist my father in his business, which was that of a tallow-chandler and sope-boiler. I disliked the trade, and had a strong inclination for the sea. In 1721, my brother begun to print the second newspaper that appeared in America, called the New England Courant. First, I was employed to carry the papers thro' Boston's streets . I advanced to writer, then typesetter, and then took on management of the business. Friends dissuaded me from this undertaking, one newspaper being, in their judgment, enough for America. At length, a fresh difference arising between my brother and me, I took upon me to assert my freedom, voyaging miserly to New York, then to Philadelphia, then to London, where I got into work at distinguished printing-houses. The next eighteen months I spendt a good deal of my earnings entertaining lonely widows, and going to plays and other places of amusement.
Grown tired of London, I return'd to Philadelphia and soon established my own printing house. Soon, I form'd most of my ingenious acquaintances into a club of mutual improvement, which we called the JUNTO. We met on Friday evenings. The rules that I drew up required that every member, in his turn, should produce one or more queries on any point of Morals, Politics, or Natural Philosophy, to be discuss'd by the company; and once in three months produce and read an essay of his own writing, on any subject he pleased.
In 1729, I wrote and printed an anonymous pamphlet entitled "The Nature and Necessity of a Paper Currency." Rich men dislik'd it, but it was well receiv'd by the common people and the point was carried by a majority in the House. My friends rewarded me by employing me in printing the money; a very profitable jobb, gain'd by my being able to write. That same year, I commenced my first newspaper, the Pennsylvania Gazzette.
Having turned my thoughts to marriage, I look'd round me and made overtures. The hard-to-be-governed passion of youth hurried me frequently into intrigues with lonely women that fell in my way, which were attended with some expense and great inconvenience, besides a continual risque to my health by a distemper which of all things I dreaded. By great good luck I escaped it. September 1st, 1730, I took Miss Deborah Read as my wife. She proved a good and faithful helpmate, assisted me much by attending the shop; we throve together, bearing three children, ever mutually endeavored to make each other happy.
And now I set on foot my first project of a public nature. With the help of my friends in the JUNTO, I obtain'd a charter for the mother of all the North American subscription libraries, now so numerous. These libraries have improved the general conversation of the Americans, made the common tradesmen and farmers as intelligent as most gentlemen from other countries, and perhaps have contributed in some degree to the stand so generally made throughout the colonies in defense of their privileges.
More about me next week. Until then, write things worth reading or do things worth the writing. Your humble servent, Benjamin Franklin.