Antique Valentines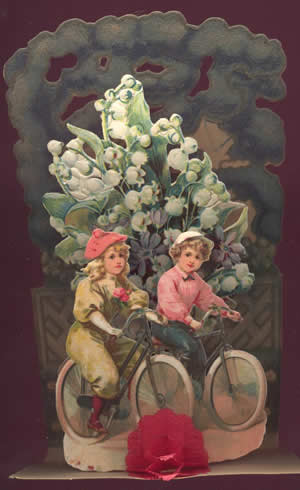 I fell in love with Becky Mann in 3rd grade. Of course, to third grade boys, especially those sworn in by oath of blood to the GH CLUB (Girl Haters Club), such feelings were outlawed by punishment of death or torture or worse. Our teacher, Mrs. Loria, did not share our sentiment. She was a romantic. Being such, Mrs. Loria gave us a grading Art Class project whereby we were forced to create a homemade Valentine to be given out to member of the opposite sex, February 14th. Here's how I figured out a way to give mine to Becky Mann. I held a meeting with my buddies and started-The OPPOSITE CLUB. The rules of our new secret girl -hating society were simple: Anything said or written to girl would mean exactly the opposite of what was stated. If you said you "liked" a girl, it really meant you "hated" her. It became our secret mode of attack. Additionally, it was my covert way of safely sending the mushiest homemade Valentine ever to that girl with blue sparkling eyes that made my stomach knot up. I remember drawing all sorts of hearts and X's and O's on my card. The words I wrote were even sappier. And, I remember Becky Mann standing up, smiling, and holding my Valentine up in the air for all the class to see. "Wayne Mattox likes Becky Mann!" my classmates chided. Blushing crimson, I tried to explain the rules of our federation. "My card is an Opposite Card," I pleaded. Nobody bought it; not even my fellow OC members. The whole school had learned my most terrible embarrassing secret. And I went home and buried my red swollen eyes into a pillow that afternoon and every day thereafter for rest of the week.
Love sprouts our greatest creativity. Poetic artistry in word and image, availability, and affordability are the biggest reasons why the hobby of collecting of early Valentines is blossoming, worldwide. Similar to Halloween and other holidays, Valentine's Day has its origins in pagan and Roman fertility rituals, later modified and adopted (around 500 AD) by the Catholic religion. While April or May might seem like a time more befitting the holiday, Chaucer and English theologian, Hugh Born's observations as to tailing days of winter when "every bird chooses his mate," may have much to do with Valentine Day's post on the calendar when, "so can man, in this season, do the same."
Probably since men first began to navigate the ocean, they have passed lonely idle hours producing Valentines for the women they left behind. Romantic poems and artwork rarely appear on the market, carved into large shells, exotic woods or scrimshawed into whalebone or teeth. Strong in artistry and integrity, such gifts of affection are amongst the most coveted and highly valued in the field nautical folk art. More common and slightly more affordable, sailors also made "shell work" wall hangings for their sweethearts. Like samplers wrought from the sea, sailors glued rice and other types of shells to a flat surface in such a way as to form a picture of hearts, romantic expressions and floral elements surrounding their sweetheart's name or image. Back in port, the gift would normally be mounted in a shadow box frame. Most "sailor valentines" are from the Clipper Ship era.
From the 18th century and even early eras up until the beginning of the Victorian Period (around 1850) most Valentine cards encountered today will be of the handmade variety. However, "lacy valentines," primarily from England were produced beginning around 1810. Painstaking scissor cut open work, pinprick work and watercolor designed cards of superior artistry and condition can fetch $100 and more to collectors. Watercolor love notes were often made in theorem fashion, applying color and decoration through stenciled paper of various designs followed from pattern books.
Stimulated by the advancement of postal services, commercially manufactured cards began to supplant the homemade "folk art" variety beginning around 1850. Popular British makers often camouflaging their marks include J Addenbrooke, H. Dobbs, G Kershaw, G. Meek, and J. T. Wood. Miss Esther Howland (a woman!) is credited as the first U.S. manufacturer of the Valentine. According to writer/collector Suzanne Wylie, most Howland Valentines are marked on the back with a small red H. In the mid 1870's the business was reorganized and the Initials NEVC (New England Valentine Company) were used. Other prominent American card manufacturers include Berlin & Jones, the great Louis Prang (inventor of the chromolithograph print process) T.W. Strong, J. Taft and G. Whitney.
Beginning around 1910, and for the next twenty or so years, Valentine post cards began to outpace greeting cards in popularity. Because they were published in large numbers they are widely available and affordable to collectors today.