Plastic Radios Become Classic Antiques
One day, as he describes in pioneer book, Classic Plastic Radios of the 1930's and 1940's, John Sideli began changing. Like a character from a Harry Potter book, he went from respected dealer in the traditional lines of American folk art and furniture into a purveyor of strange, queer objects with little antique tradition at all: plastic radios.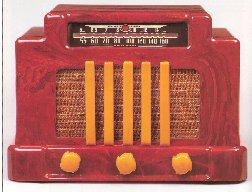 The seeds were planted by a Fada Model 115 his grandmother kept on her kitchen table. Although its futuristic shape, vibrant maroon and yellow colors and oily smell were locked away in John's memory for years, those recollections caused his attention to be drawn to similar radios. Gradually, foggy memories took shape; long quiet afternoons spent sitting at the red-and-white enameled kitchen table. Staring up. The talking box was like a spring violet sprouting through an asphalt crack. It lit up, glowing and producing indecipherable compositions in Italian. "I vowed to find one just like it," John said. For $20 bucks in a New York City antique shop the duplicate was quickly landed and a new collection had commenced. By the fall of 1983, Sideli had bought and sold more than two-dozen radios and assembled a wonderful collection of thirty prize examples he displayed upstairs. "Out of the view of his "legit" dealer friends," as he put it. "I was still a bit embarrassed about my new passion." The embarrassment ended when John discovered his folk art and furniture-dealing associates shared his enthusiasm."For me," John said, "the radios were like warm and wonderful blocks of color in an infinite variety of shapes to be played with and put together in various combinations. It was incidental that they were radios. It was the material I was in love with-fabulous colored boxes in Deco and Moderne designs."
The first thing you should know about valuable Bakelite radios is that they are not made of Bakelite. This is a common misnomer. They are Catalin. Bakelite is relatively dull-colored molding plastic commonly encountered in early humdrum radios. Usually found in uninspired cases of brown, black or white, they seldom retail for more than $50. Catalin is a durable translucent plastic casting resin that, after the final production stage of polishing, lends itself to vibrant multihued coloring in combinations of chalk white, emerald, teal blue, neon orange, tomato red and other colors with marbleizing. Catalin began making appearances in radio cabinets around 1935. They are valued according to: vibrancy rarity and contrast of color, unabashedly modernistic design of the case, excellent condition with the original box being a plus and overall rarity and interest in the model and maker. Prominent manufacturers include: Addison, Air King, Arvin, Automatic Radio Mfg. Co., Bendix, Crosley, Detrola, Dewald, Emerson, Espy, Fada, Garod, General Electric, Halston, Kadette, Lafayette, Motorola, N. M Company , RCA, Sentinel, Sonora, Sparton, Stewart Warner, and Symphony. Prices in mint condition range from $25,000 for a Symphony Model 1939 "Split Grille" in marbled yellow with bright green grill, handles, and knobs to $600 for a yellow 1946/47 FADA Model 700 with white trim. Because they were commonly discarded, Catalin radios are rarely found today.
Getting Back to John's story: He finally brought his radios downstairs. He exhibited and sold his entire collection at Stanford Smith's New York Fall Antique show in 1983. The booth would be one of the most talked-of and photographed in the prestigious show's history. Catalin radios made news in The Daily News, The New York Times, The Village Voice, and Metropolitan Home Magazine. A year later, Sideli would help to organize an entire sale exhibition dedicated to his passion-The American Radio Show. He would author a popular book on the subject. Catalin would go on to become one of the most coveted and popular lines of American antiques.
Perhaps that is why Sideli abandoned his specialty. He's back in American Folk Art again. However, I would advise you to be cautious. All is not safe yet. If you see a charismatic man of about 50 years of age, balding, of medium height, with a sparkle in his eyes, and he is eyeing your kitchen faucet; or admiring your chrome toaster; or something else that one-day might be deemed as art. Refuse his $20.