Early Basketmaking
The foremost antique baskets in the world will be found in America. A basket weaver would be dispelled quickly on a CBS "Survivor" island for he or she would likely appear too competent amongst their rival survivalists. Historically, Native Americans and colonists discovered that basketry allowed them to take best advantage of natural abundance available to them in the form of reeds, grass, straw, pine needles, roots, vines, cornshucks and splints of willow, walnut, hickory, oak and ash with a minimum of tools, hardware and processed material supplies not so abundant.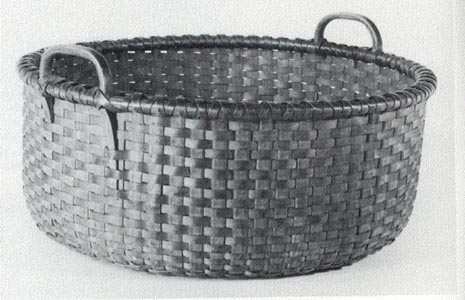 However, the most important determinant toward America's tradition of fine basketry will not be found in her citizen's environment and necessity but in their collective perspective and taste. People here, be it New England Puritan carpenters, or seafaring craftsman, or Quaker cabinetmakers, or Cherokee, Apache and other Indian artisans, or humble Shakers all shared an eye and philosophy (distinct from European and otherworld cousins) that beauty could be found in simplistic functional form, natural materials, geometric line and strong attention to craftsmanship and detail. These elements, in additional to a nutty brown aged coloration and exemplary condition are what you should seek toward collecting fine early baskets.Baskets can be collected according to age, weave, materials, size, function, form, decoration and community.
Early baskets will exhibit wear, as they were wrought to be used, and mellow patina. Hand cut splints and handles will often appear thick and irregular. Rough tool marks will be evident and the oldest examples will be held together with hand-wrought iron and copper tacks and animal sinew. Rattan (used in "Nantucket" baskets) was widely introduced to American by Cyrus Wakefield, founder of Wakefield Rattan and Wicker Furniture beginning around 1840. The first fully automatic basket-making machine was patented in 1894. Machine-made and later vintage hand-woven baskets are generally lacking in quality workmanship and inspired design.
Generally, basket construction falls within two broad categories each with a plethora of methodology and pattern: plaited and coiled. Woven plaited baskets made by interlacing two or more elements called the warp and weft include willow, open-weave and wood splint. Sewing a spiral snakelike foundation together in a flat or ascending coil makes coil baskets. Pennsylvania Germans and Native Americans are famous for their sweetgrass, figure of eight, lazy squaw and other varieties of laced coil baskets.
Unlike many other antique categories, immense size is not value contributive in baskets. In fact, miniatures are amongst the most sought after. The best of these will be indistinguishable from their larger brothers except in size.
Interesting basket forms include superbly wrought examples that stand alone as art. Additionally, peach baskets of interest to basketball collectors, narrow-necked goose baskets that covered the bird's heads for feather plucking, buttocks shaped baskets, picnic, sewing, creel, fish and eel trap, clothing, nesting set, cradle, cooking, gambling tray, bottle and egg, apple and other type of gathering and holding baskets are much sought after by collectors.
Basket construction is one of the biggest determinants of value. Skilled basketmakers took pride in the closeness and evenness of their sewing and weaving technique and the overall balance and symmetry of their product. Be it round square or otherwise shaped, a basket should be strictly true to its form and harmonious in construction. The most valuable schools of basket include pictorial Native American, cooper-influenced Nantucket lightship baskets and tightly woven Shaker splint baskets. Still available at house sales, flea markets, estate auctions and shops, collectively, or in the best examples-individually, antique American baskets embody our country's highest ideals toward form and craftsmanship.