Biography - Josiah Wedgwood
Josiah Wedgwood (1730-1795) is the most influential figure in the history of Western civilization ceramics. When his father Thomas, a relatively unsuccessful potter, died in 1739, the nine year old boy from Staffordshire, England was put to learn the "art, mistery and imployment of throwing and turning" in the family business. Forthwith, he developed exceptional skills. Three years later, he developed virulent case of smallpox that ruined his right leg and forever curtailed his ability to perform physical work. As he would all his life, the boy adapted. Inventive and market-oriented he turned his attention to reading, researching and experimenting "to try for some solid improvements as well as in the Body as the Glazes, the Colours, and the Forms of article of our manufacture." In 1749, in what had to be one of the worst personnel decisions of all time, his older brother refused Josiah partnership in the family business. No doubt, Josiah's imagination and spirit for experimentation intimidated Thomas Junior.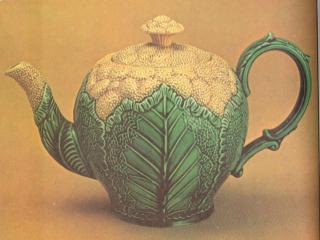 In 1754 Wedgwood (notice there is no "e") entered into a five-year partnership with the 2nd most innovative ceramicist of his day, Thomas Whieldon, forming the Lennon /McCartney of pottery methodology. Together, they developed an ivory colored silken type of low-fired earthenware called "creamware." They also introduced improved vibrant green and other beautifully colored glazes including mottled "tortoiseshell" ware. Adapted to mid-18th century rococo taste, the partner's "pineapple" ware was shaped organically: Form, texture and coloring parroted cauliflower, melons, cabbage, and of course pineapple. Rare surviving teapots and other sophisticated examples of these wares command thousands of dollars each today.
Around 1766, Wedgwood took onto partnership with his cousin, Thomas Wedgwood and businessman and friend, Thomas Bentley. They hired artists and engineers and introduced revolutionary mass production techniques to their factory. When public interest was drawn to excavations at Pompeii and Herculaneum and taste turned to Classicism (1750-1800), Josiah adapted. He improved the quality of his creamware and molded it in urn-like vases and Corinthian column shaped candlesticks and other classic forms. The product achieved worldwide success and met with such favor to Queen Charlotte, wife of George III, she allowed her name to be affixed to it; "Queen's ware."
In 1774 Wedgwood introduced the line he is most identified with today. Jasper ware is white, granularly textured, thin-walled stoneware stained shades of blue (the most common), sage green, olive, yellow, black, and pink. The singular shades provide background for white bas relief work in classical design.
Wedgwood pottery is still being made today. Almost every piece is identified by factory marks and beginning in 1860 registry marks, that can help in determining age. For example, "England" was added to the Wedgwood mark in 1891 to conform to the McKinley Tariff Act. Earlier pieces are generally superior in quality. Wedgwood pottery is probably the most imitated in history.
Wedgwood is a name we use to denote blue and white jasper ware. Josiah, the man, was more than that. In addition to being a great innovator, scientist and businessperson; he was a good man. He supported the American cause in the Revolution and had ceramic portraits made of Washington and Franklin. He was also a supporter of the 18th century Anti-Slavery Committee and ordained a cameo medallion depicting a slave kneeling in chains surrounded by the inscription, "Am I not a man and a brother?" Benjamin Franklin said of Wedgwood's tokens, "they may have an effect equal to that of the best written pamphlet." Although thousands were given away free to anyone who shared Josiah's sentiments on slavery, I have never seen one in person. It's something to keep your eyes open for next time you're antique hunting.