Norman Rockwell - Biography
Norman Rockwell's January 1962 Post cover was atypical of what America had become accustomed to since he landed his first commission with the magazine in 1916. It wasn't comical. In his realistic almost photographic style Rockwell depicted of the backside of businessman standing in a gallery, contemplating the meaning of a huge abstract painting that looked as if the artist had dripped his multitude of oils from a stick or can onto the canvas while it was lying on the floor. The illustrator's rendering of Abstract & Concrete must have been indicative of what Rockwell, then 68, was pondering at the time. "How will I be remembered? As a technician or artist? As a humorist or a visionary?" This was the beginning of one of the most turbulent times in America. When the seriousness of the 20th century would become even more serious. A century in which the majority of those deemed as socially significant art critics would use words like "master" to describe modernists like Jackson Pollack while scoffing at the artisan most popular to the people.
Employing themes of patriotism, diligence, family, courtship, holidays and small embarrassments we can all relate-to Norman Rockwell celebrated ordinary Americans at play and at work with remarkable warmth and humor. In the sixties his subjects broadened to include political portraits, poverty, race relations and the space exploration. "Without thinking too much about it in specific terms, I was showing the America I knew and observed to others who might not have noticed ," he said. "My fundamental purpose is to interpret the typical American. I guess I am a story teller."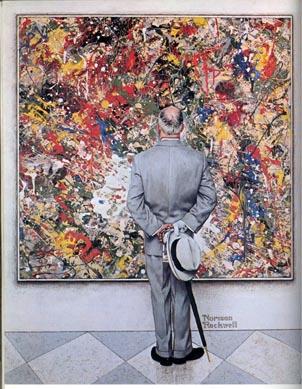 At age 16, having already earned a commission for four Christmas card paintings, Rockwell transferred from high school to study at the Chase School of Art, the National Academy of Design and then at the Art Students League. He sold his first of 321 cover paintings to The Saturday Evening Post at age 22.
An indefatigable worker, the 140 lb. almost 6' illustrator produced over 2000 original works in his lifetime that can be collected now as they appeared in ads, merchandising, books, posters and magazines. Most of his originals have been destroyed by fire or are housed in permanent collections. Rare early unmarred magazines and other collectibles with Rockwell illustrations can command hundreds of dollars today. In addition to The Saturday Evening Post his clients included: Edison Mazda Lamp Works, Encyclopedia Britannica, Fisk Tire, Interwoven Socks, Maxwell House Coffee, Overland Cars, Parker Pens, Coca Cola, Brown & Bigelow, the Boy Scouts, Ford, Hallmark, Mark Twain Book illustrations for Heritage Press, American Magazine, Boy's Life, Judge, Good Housekeeping, Look, McCall's, St Nicholas Magazine, Woman's Home Companion, Literary Digest, Motion Picture Companies, and the US Government-especially for war posters. Instead of painting now and selling later, an illustrator produces work on commission. The thing to keep in mind when investing in Rockwell antiques is to look for items he worked on to assist his sponsors' businesses. Generally I advise you to stay clear of Rockwell collectibles issued, mostly post-1970, as commemoratives. Consider Q and R in the Antique Talk's ABC's of collecting: Question that which looks antique but not old. Regard that which looks old but not antique.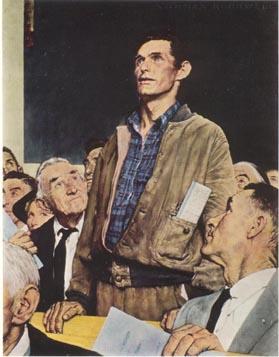 During WWI, the Navy refused young Norman's enlistment request for being 8 pounds underweight. After a night of gorging himself on bananas, liquids and donuts he was mustered in. To his chagrin, he would be employed as a military artist, not a fighter. During the century's second world war, Rockwell learned that he could play a more important role with a pen than most can by sword. In 1943, after toiling night and day at his easel for seven months and losing 15 pounds, Post published his monumental Four Freedoms series. The inspirational paintings were based on postwar principles for universal rights as declared by President Roosevelt in a January 6, 1941 message to Congress: 1. Freedom of Speech 2.Freedom of Worship 3. Freedom from Want 4. Freedom from Fear
Public reaction to the Four Freedoms was overwhelming. Rockwell's paintings touched internal chords important to free people everywhere. The government reproduced the works as posters that reinvigorated populace aid in the war effort. The Treasury Department toured the four originals to sixteen cities. Almost a million and a quarter war-strapped people appreciated them in person. The $130,000,000+ of bonds raised subsequent to the Four Freedoms was instrumental in shortening WWII.
In 1973 Norman Rockwell helped to establish a custodianship of his 574 of his original paintings and drawings near his home in Stockbridge, Massachusetts. It is open daily, May-October. In 1977 he received America's highest Civilian honor, the Presidential Medal of Freedom for "vivid and affectionate portraits of our country." He passed away peacefully in 1978, at age 84.
In his oil painting, Triple Self-Portrait, for a February 1960 Post Cover, Norman Rockwell pictured himself at an easel. For inspiration, clips of four small self-portraits were pinned to the upper right corner of his canvas: Durer, Michelangelo, Picasso and Van Gogh. A hundred years from now another painter will likely tack portrait prints of his or her heroes for inspiration. Perhaps those masters will include a boyish, lanky, hard-working illustrator: someone known for his enormous Adams apple and even larger heart. More than any other artist, and arguably more than any other storyteller, he recorded 20th century America.