Wine Collecting
One day, noted antique dealer, Elmer P. Thinkwhile was invited into a New York City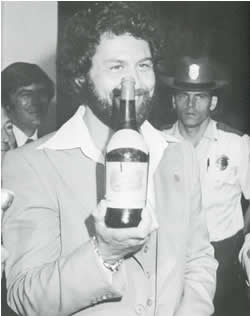 apartment to purchase antiques. After the owner agreed to his offer on a small collection of Staffordshire pottery and an 18th century American tavern table she produced a bottle of 1964 Chateau Latour. "A friend of mine told me this might have some value," Miss Dowd said. "I can't believe that. Wine can't be an antique, can it?"
The tall antique dealer wearing an American flag pin and yellow ribbon on his lapel gently picked up the bottle and held it to the light, making sure the cork wrapping was undisturbed and that the wine was clear. Thinkwhile remembered reading that cloudiness is fine for old wines with sediment, but it can be a warning signal of protein instability, yeast spoilage or re-fermentation in the bottle in younger wines. "Wine has been around longer and received more mentions in literature than almost any category of antique I deal in," Thinkwhile said. "It was ascribed to Noah in the Bible."
"Well mine's not thaaat old!" the woman said.
The antique dealer chuckled. "Doesn't have to be," he replied. "I've seen collectible wines less than 75 years old fetch astronomical prices. When I had just started out in the business I attended a wine auction in New Orleans. It was 1976-Bicentinial year. 600 people were there. Gross sales topped $280,000. Some fellow with a big black beard from Los Angeles paid $14,200 for an 1806 Chateau Lafite Rothschild--back when fourteen hundred was a fortune and fourteen dollars was about my life savings. Interest is exponentially higher now," Thinkwhile said. He inspected the all-important label, to make sure it was clean and intact. "Hope that guy didn't drink it!"
"You're funny," the woman said, "I still don't understand why anyone would spend good money on old bottled wine. Doesn't it go bad?"
"Frequently," Thinkwhile said. "Good product, proper bottling and shelving it sideways so the cork doesn't dry out is important. Wine should be stored it in a dark, dry, motionless, cool, temperature-constant environment like a wine cellar. Some people are using nuclear magnetic resonance technology, like an MRI scan, to check unopened bottles for raised levels of acetic acid. You know … like vinegar. Don't think it's been perfected yet."
"May I offer you a drink, Mr. Thinkwhile?" the woman said. "I have something a little stronger than wine!"
"No thanks." Thinkwhile said. "Quit a few years ago when my hangovers started hanging around too long."
Miss Dowd laughed and told the antique dealer a quote she remembered from Ben Franklin about fish and visitors starting to smell after three days. Then she inquired more about what collectors look for in vintage wine."
Elmer Thinkwhile accepted a Classic Coke on the rocks. He explained that excellent preserved condition was absolutely critical and that wines presumed to be in palatable state are sought after because they are occasionally enjoyed by senses extending beyond the eye-senses of palate and bouquet. The antiquarian expounded on a few criteria his collector friends had discussed with him concerning old wine:
In addition to type, people collect according to region or country, the most significant primers being: Australia, Austria, Chile, France, Germany, Italy, Portugal, South Africa, Spain and the United States.
"Vintner" stands for a wine producer or winery proprietor. "Vintage year" stands for the year a wine was made and the conditions that occurred to the grapes that are the foundation of superior wine. People collect wine by "label" and by "year" just as they collect art according to artist and by the particular period when that artist was producing his or her greatest works.
In the world of wine, such masterpieces valued in the thousands of dollars per bottle include: AMERICA: Inglenook Burgundy 1903, Napa Valley Inglenook Cabernet Sauvignon 1887 & 1943, New Jersey Currant Wine 1895, AUSTRIA: Heiligensteiner Riesling Wilhelm Brundlmayer 1947, FRANCE: Château Ausone/Red Bordeaux 1924, Chateau Filhot/White Bordeaux 1893, Romanee Conti-Cote de Nuits/Red Burgundy 1919, Chateauneuf-Du-Pape/Red Rhone 1943, GERMANY: Schloss Hohannisberger/Rhine 1943, ITALY: La Morra Abbazia dell Annunziata/Barolo 1957, PORTUGAL: Bin 51/Madeira 1804
For her 1964 Chateau Latour, Miss Dowd settled on a price of $50 plus, to her delight, dinner at a restaurant known for its impressive wine list. She wondered why a gentleman who neither drank or dealt in old wine would purchase a bottle of French Red Bordeaux. He said something about wanting to have his own private christening party. This English American with no seeming interest in boats.