Woodbury Antiques Fair - The Show Must go On!
Some farms are so beautifully maintained and picturesque, once they've outlived their moneymaking potential as farmland, they should be purchased (hopefully at a friendly price) by the town in which they are situated and converted into a park for people's enjoyment.
That's what happened to what longtime residents still think of as, "Shepard's Field." When some go-getting people compared notes and decided that the flat topography of Three Rivers Park would be ideal for holding a fundraising antique show with proceeds toward Woodbury's Glebe House Museum and Gertrude Jekyll Garden, the first Woodbury Antiques Fair was born.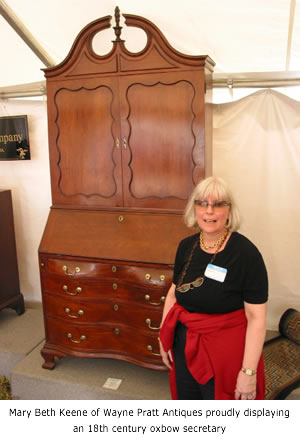 Under the direction of show promoter Frank Gaglio and his committee, a national advertising campaign recruited nearly 150 top dealers for a June 14 – 15 "premiere show in one of America's premiere antiques communities."
Earlier in the week, tractors mowed the tall grass. Bailed it. Then, hauled it away. Huge tents were erected. Signs were posted. Traffic lanes were laid out.
And then … it started to rain. Make that pour.
One of the first trucks to pull into the field, the day before the show's Saturday morning opening, got stuck in the mud up to its axel. Tractor loads of hay, reportedly including some of that which was hauled away just a few days earlier, were brought in to fill the mushy tire trenches. Rain came down even harder. Trucks and everything else not having duck feet continued to sink down in the mud.
In one case, a board placed under a tire for traction shot out like a bullet slamming hard into the shin of a man pushing the vehicle from behind. An ambulance took him away but fortunately, his leg was not seriously injured. Pre-show reports I heard in my Woodbury shop were unavoidably alarming. "The show's going to be mudded out!" people were saying.
Fortunately, the show did go on. "When the rain finally stopped," exhibitor and show cochairman, Wayne Pratt said, "the field dried up miraculously. Frank (the show's promoter) and the committee did a terrific job. Traffic and sales are pretty steady and we've made lots of money for the Glebe House."
Wayne Pratt's business partner, Mary Beth Keene was equally upbeat, "It's beautiful out here, now," she said. "People really pulled through!" The firm made several sales and showed a number of historically important pieces including an 18th century shell-carved secretary made within a mile of the show's site by preeminent Woodbury cabinetmaker, Elijah Booth.
The quality of the merchandise at the Woodbury Antiques Fair was impressive and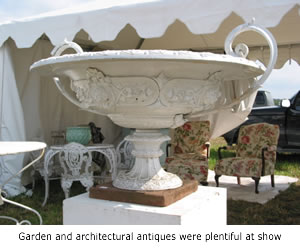 in many cases, lots of fun. Canterbury, Connecticut dealer, Deborah Ferguson showed several "high-country" (quality antiques made in rural areas) items in original paint including a breathtaking scenic-painted 19th century Maine cottage bed priced at $2750. One of my favorite items in her booth was an early brightly painted early 20th century sign that read, "Waffles." It was reasonably priced at $295.
Ohio furniture authority, dealer Mark Keily reported sales of several major items including a sofa table, a cast iron urn, a folk art painted desk and several "smalls" (a dealer term for little antique accessories). "I also bought well," Mark said with a wry grin on his face. Blanketed away in the back of his truck, Mark gave me a peek at a Federal Period (1785-1820) Philadelphia neoclassical styled piano stool in masterful form and original surface. I understood.
Woodbury dealer, Barbara Bourgeois who sported several "sold" tags in her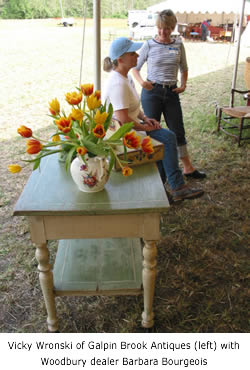 beautifully decorated booth summed up dealers' attitude nicely. "The weather brought out the worst in everyone and the worst wasn't too bad," she said. "Dealers pulled together and showed real camaraderie."
Barbara's show neighbor, Vicky Wronski of Galpin Brook Antiques & Rugs, whose husband, Gregg, was still nursing his board-whacked shin, was a cheerful as Barbara. "We were sopping wet!" she said, smiling. "Everybody did what they had to do and by 8:00 AM, many of the dealers were set up on the field and people were buying. People had a great attitude."
Having braved the harshest of setup conditions with success, I foresee smooth sailing for this annual show. Over 150 brave collectors and dealers faired the mud in the wee hours of Saturday morning paying an additional fair for "Early Buying." Total gate for Saturday and Sunday would surpass 2500. Not a Woodstock crowd but not bad, considering. After all, how many tickets did Noah sell to his first big Bonvoyage?